Sponsors showcase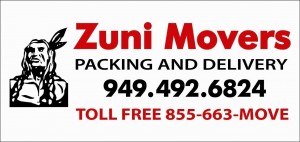 (949) 716-7197
Zuni Trucking is a family owned and operated business. Our company was established in Orange County, California in 1999 and is fully licensed, bonded and insured. With prior family experience in the antique furniture business and the transportation industry.
We understand that relocation can be very stressful.  Zuni will do the packing, unpacking and provide all the boxes and materials on an simple hourly rate.  There are no hidden fees or mileage charges and deliver 7 days a week. 
Over the years, we have developed long term relationships with our clients because of our utmost care with the handling of their furniture and the services that we provide. We understand the importance of providing professional delivery services including the care and timely delivery of your possessions.
We look forward to supporting you in your move!
Matthew and Mayra Zuniga