Sponsors showcase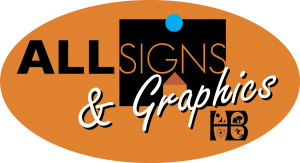 18366 Gothard St., Huntington Beach, CA 92648
(714)375-7446
All Signs, Inc. is a family owned and operated business located in Huntington Beach, California. In 1999 Mike Sr. retired from corporate life as Vice President of Marketing for a Fortune 500 Company. In 2000, after determining that he could not get his golf handicap any lower, he bought a small sign company in Huntington Beach. In 2002 he acquired Chalk Talk, a custom menu board business in Huntington Beach and in 2003 he acquired Signmasters, a screen printing business in Laguna Niguel specializing in Real Estate signs. That year, Mike's wife Lynne, an active Realtor, joined the business to help develop the Real Estate sign side of the business. Lynne is an active member of OCAR's Affiliates in Orange County and served as Chairperson of the South County Affiliate group in 2012 and 2013. All Signs, Inc. was named OCAR's Affiliate of the Year in 2011.
In 2005 Mike Jr. joined the family business as our Graphic Designer and production manager.
All Signs has been involved with digital sign printing since 2000 when we purchased a Gerber Edge II. In 2002 we bought our first Wide Format Printer, a 54" Encad. In 2005 we traded the Encad in for a 54" Roland Soljet Printer/Cutter. In 2014 we added our state of the art 64" Roland Printer/Cutter.
As we became more adept at digital printing, it became apparent that our screen printing operation was a thing of the past for us so we closed down our screen printing operation in Laguna Niguel and consolidated our operations to one location in Huntington Beach. In 2012 we sold the Chalk Talk business so that we could focus entirely on our sign business.
In 2014 All Signs added Kendra Kuhlmann to our team with responsibility for Customer Service and Business Development. She brings 10 years of sign business experience along with a sparkling personality to All Signs. Kendra is also in charge of administering our Customer Rewards program, an exclusive to All Signs in the sign business.